Welcome to the website of Elena Stefarova! Check out the galleries by clicking the images below, or scroll down to find out more about the artist.
---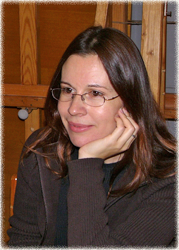 I wanted to be an artist for as long as I can remember. From the time I was a little girl, I liked to draw and paint everything I saw and felt. I took special art classes which helped me to improve my skills, and was fortunate enough to be accepted into the Moscow National Art Academy from which I graduated with a degree in art specializing in restoration.
After graduating, I went to work at the Ostankino Palace-Museum, I found an appreciation for chamber music and fine miniature painting. Along with restoration I started painting decorative eggs and boxes in the Russian iconography style of the 17th century. I chose subjects based mostly on Christian holidays, lives of saints, parables, and monastic life.
For my next job, I worked in the Icon-Painting and Restoration Workshop at the All Saints Church in Krasnoe Selo (Moscow, Russia). There I started not just restoring, but also painting icons in the traditional style and method. At the same time, I created illustrations for the children's Orthodox Christian journal God With Us ("С Нами Бог"), and for children's books published by the Vala'am Society of America.
After moving to Colorado in the United States a number of years ago, I've continued to paint icons and decorative eggs. I paint my icons in the traditional Russian and Byzantine style. My eggs are also based on religious themes with influences from Russian, Byzantine, and Renaissance art. I have also been inspired by Illuminated Manuscripts and find them to translate well to my eggs.
---
News
New icons!
2014-09-04
Two new icon were added to the gallery today:
Saint Blessed Xenia of St. Petersburg



New miniature and icon added.
2013-07-15
Two new pieces were added to the gallery today, both available for sale:
Icon: Our Lady Vertograd Zakluchenny



Website launched!
2012-10-13
Website launched!